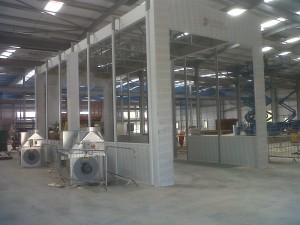 Johnston Sweepers new state-of-the-art production facility is flying up: Junair have made their first spray booth delivery, which is a drive through full CV Booth fitted with Junair's patented "QADS ECOactive" energy saving system. This will be followed by a twin shot-blast facility and is Phase 1 of the multi-million pound contract to deliver a state of the art paint shop for Johnston Sweepers, designed, manufactured and installed by Junair Spraybooths Ltd.
This will be followed in May by Phase 2 of the project, comprising of an overhead conveyor system and four drive through LCV Booths. To complete the project Junair will supply and install a centralised dust extractions system, a lux & motion sensing lighting system and radiant heaters. The whole project will be completed in 12 weeks ready for Johnston's huge increase in order intake.
The system is being prepared for phase 3 comprising a powder coating system later in the year.
For more information on our spray booth equipment please contact our sales office on 01706 363555