Commitment to quality workmanship and service has established The Rye Street Group as one of the leading accident repair groups in the South East. The equipment and facilities required to maintain the high standard of workmanship must be top notch.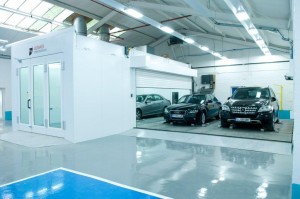 It was with this ethos in mind when Bill Duffy, Director at The Rye Street Group, approached Junair Spraybooths to improve the lighting in the Broxbourne site.
Junair installed money saving energy efficient Body Shop lighting including high frequency starting gear. The control system was upgraded with personnel detection by motion sensors and lux sensors. Motion sensors trigger the lighting system to automatically turn off zones when there are no personnel present and lux sensors operate in the same way so that when external light levels reach a pre-determined level [usually 750 lux] the lights switch off therefore reducing energy costs.
Junair developed this innovative lighting system specifically for the needs of the Body Shop industry and can be tailored to meet the requirements of any lux levels and any motor manufacturer's approval.
Bill Duffy enthused 'We are delighted with the lighting installation by Junair and would have no hesitation in recommending to anyone looking to upgrade their lighting system. Our quality has always been excellent and this system has helped reduce reworks dramatically"
Learn about the complete range of cost cutting technology featured in our spray booths.