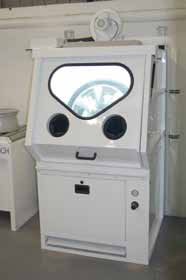 When Hexagon BMW took the decision to develop an in-house Cosmetic Repair facility it goes without saying they required the same high standards from the company they chose to design and install the facility. As a BMW Approved Bodyshop, Hexagon BMW work to meet exacting standards.
After consultation with equipment providers encompassing design and equipment options based on Hexagon's requirements, David Sheldrake Aftersales Manager, awarded the contract to Junair Spraybooths.
David commented 'As a Dealership we are constantly looking to improve the level of service we provide our customers and the Cosmetic Repair facility stemmed from our desire to save on the cost of outsourcing and pass these savings on to the customer, whilst retaining an acceptable profit margin and ensuring that quality was not compromised in any way.".
David went on to say "As a very busy PDI and Valeting centre it was essential that any disruption was kept to a minimum so the proposed installation not only had to control dirt and dust but also had to allow us to seamlessly deliver the excellent service our customers expect. We also incorporated a photography area in the project comprising a turntable and auto-camera which photographs all our sales cars for our internet facility. This too has been extremely well handled and is a fantastic addition to our in-house capabilities."
"We pride ourselves on being a profitable, cutting edge, business and the simplicity with which this facility has been introduced into our existing Bodyshop has only added to its success. Junair provided on site training for our technicians ensuring any prospective teething problems could be addressed prior to launch. The installation and the dedicated aftersales support we have received has proven to be a winning combination both for ourselves and our customers."
Visit us online to learn about Junair Spray booth equipment.