Motofix Upgrades High Wycombe site with Junair Spraybooths
When retu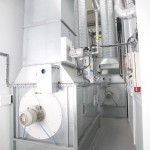 rning to work after the weekend the staff at Motofix High Wycombe found that intruders had stolen much of the heating oil used to heat the building and the Spray booths. In the process they had also vandalised the storage tank by puncturing it making refuelling impossible.
Motofix had already been working with Junair car spray booths and the Carbon Trust to design gas fired replacement plant for the oil fired paint booths but no contract had yet been signed. Following an emergency call to Junair, the contract was agreed and manufacturing of the replacement plant was underway.
Including working over the weekend the plants were installed without any disruption to the workshop, with both booths being commissioned and signed off within two weeks.  A good result all round as the replacement plants also reduced running costs and with better temperature control!
Commenting on the way the project was handled Richard Tutt, Managing Director of Motofix, said. "The irresponsible actions of the intruders could have rendered the site inoperative for several weeks while a replacement fuel storage tank was delivered and installed. The quick response from Junair Spraybooths made it possible for us to effect an upgrade to the site without loss of productivity. The addition of the direct gas fired plant and QADs drying systems in the paint booths will mean a significant long term operating cost saving – typically 70% on our previous bills – as well as significantly reducing our carbon footprint. In partnership with the Carbon Trust, Motofix is committed to reducing our impact on the environment and this investment in cleaner burning technology is part of our long term strategy."
Comment from Grahame  Kitchin – Sales Director at Junair Spraybooths ….
"When Richard called me it was clearly an emergency and fortunately, as we manufacture all our equipment in Manchester, we could respond immediately. We agreed all the details by email within 24 hours and worked additional hours to complete the spray booth plant replacement. Junair's Contract team had surveyed and detailed the existing plant areas and the installation of the new plant went smoothly: we removed the old equipment and installed the new including all the new gas pipe-work and services connections. All in all, a two week turn-around from call to completed installation. I think even Richard was impressed!"
Learn more about the range of spray booth equipment available at Junair.
For further information please contact:
John Robbins      07710 831145
Grahame Kitchin 07831 819151