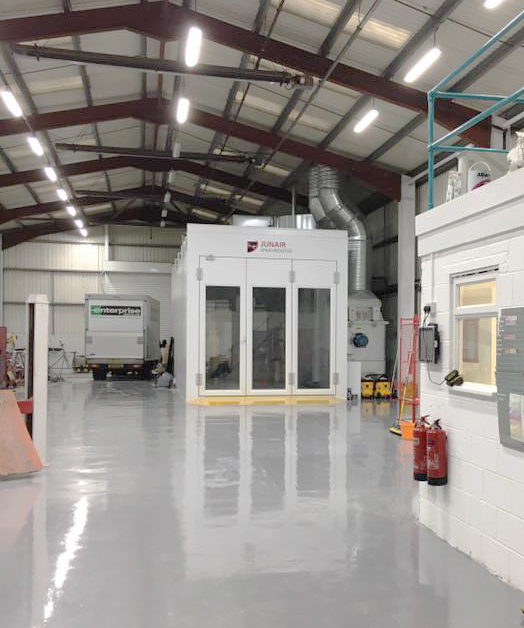 NCR Bodyshops operate a group of bodyshops in the South of England offering the very best in vehicle care since 1986. After recognising a need for more repairers in the area, the business opened a new site in Swindon.
New SprayBooth equipment for NCR Bodyshops
Junair pride themselves on taking the time to understand a customer's requirements and following a site survey and customer consultation, it was evident that, due to the narrow building, the spray booths needed to be positioned as close to the wall as possible.
The extended length drive through, 3 Series Spraybooth is fitted with a 3 leaf door set at the far end, to be used as an exit. As baked vehicles leave the booth, the turning circle to return to the bodyshop is limited, the wider opening of a 3 leaf door set maximises the available space. The spraybooth is entered via standard 2 leaf door set, a series of skates and rails perpendicular to the entrance of the spraybooth mean that cars are pushed in line with the door rather than having to be driven around the workshop first.
The LEVAC floor ensures a full downdraught airflow, without the need for costly and disruptive excavation for an extraction pit. A LEVAC floor means that the spraybooth sits on top of the current bodyshop floor just raised by 140mm, giving enough space for a full downdraught air movement. The spraybooth is accessed via a low, unobtrusive ramp. As the spraybooth is extended in length it has capacity for 2 cars, or 1 car and off car panels which can be refinished simultaneously. The downdraught nature of the spraybooth ensures that different coloured paints can be used in the spraybooth without cross contamination.
Energy efficient Spraybooths from Junair
NCR are a socially responsible bodyshop, with an active commitment to reducing their carbon footprint. In line with this commitment NCR ordered the full energy efficiency pack consisting of QADs, Variable speed drives, Fuel Saver Mode and LED lighting. When used as an entire package these energy saving features can save up to 70% of fuel output, with the obvious added benefit of reducing fuel costs.
Junair QADs are a patented energy efficient and environmentally friendly auxiliary drying system. QADs agitate the airflow from the corners of the spraybooth, reducing the cure time.
The automatic Variable Speed Drives reduce airflow to the spraybooth when not in use or when loading and unloading. No operator input is required as the system is fully automatic, substantially saving energy and heating costs.
Fuel Saver Mode changes the air handling plant to re-circulation mode automatically when the spraybooth is in idle and flash off modes, saving energy and reducing the air heating costs.
LED Lights are well known to be energy efficient, they offer illumination which is representative of natural daylight and ensure operators have an optimum environment for accurate colour rendition and a flaw free finish.
Junair SprayBooth equipment for your business
Steven Wood, Sales Manager, Junair Spraybooths commented, "It was a pleasure to work with Christine, NCR have worked with Junair many times before so they knew that we'd provide top quality equipment. Initially with the throughput at the site they wanted us to install 2 spraybooths, however there was a challenging width space at the site. We discussed a recent job we'd installed which has seen incredible results. Instead of 2 booths it was one extended length booth, not only taking up a smaller footprint but also significantly reducing the cost as well."
For more information on Junair Spraybooths the UK's leading supplier of paint spray booths and paint finishing equipment contact the experienced team on 01706 363 555, email sales@junair.co.uk.
Alternatively you can view the full range of spraybooth equipment and accessories and services that Junair Spraybooths offer by visiting our home page.