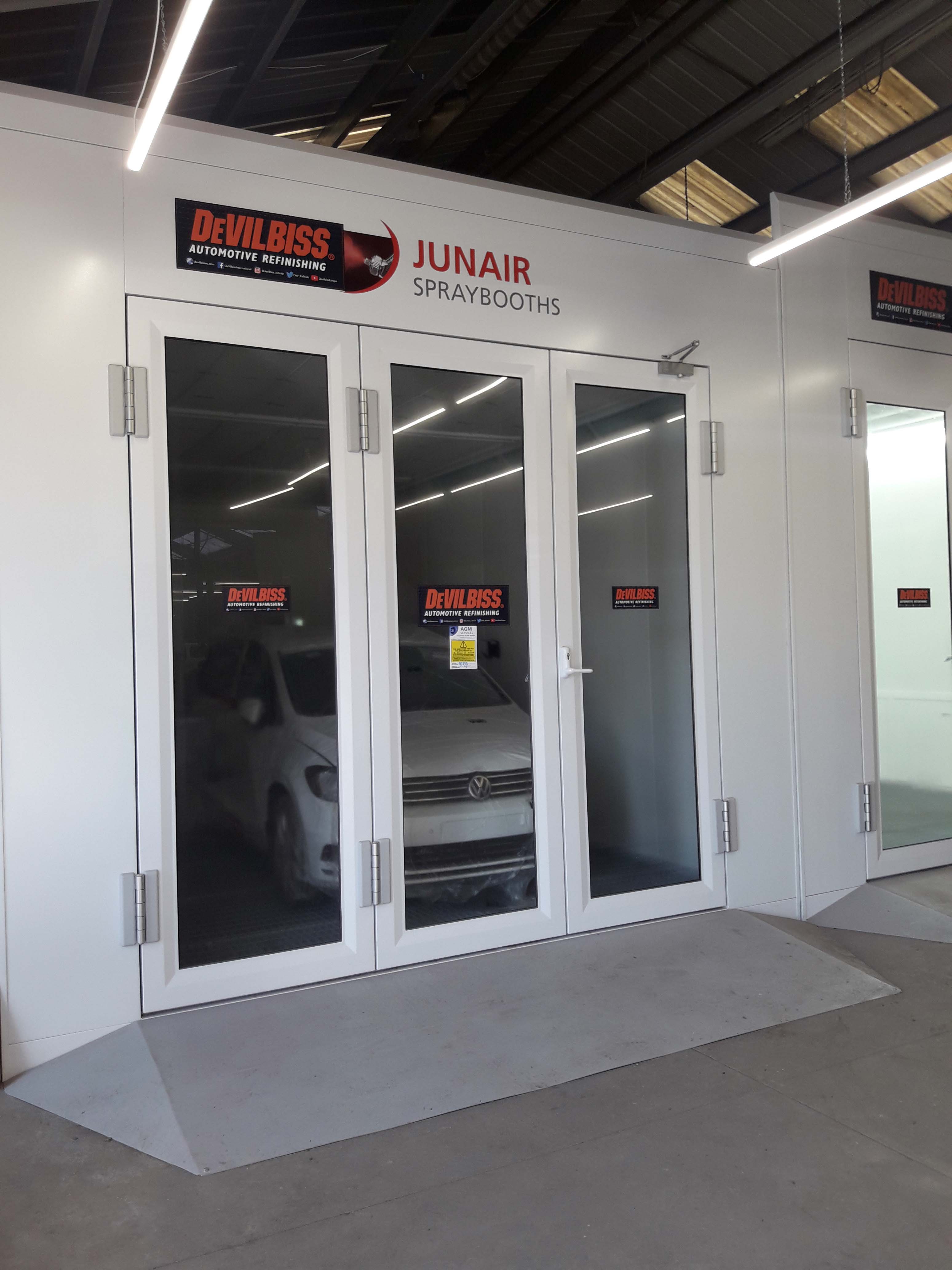 Protek Bathgate Ltd is a family run accident repair business with over 40 years' experience. Founded in 1974, it has gained the recommendations of several leading insurance companies and also the BSI Kitemark accreditation, it's clear Protek are focused on the highest standard of body repair and the highest standard of paint finishes, so when it came to upgrading their paintshop booths, Junair was the obvious choice.
Spraybooths from Junair
Following a consultative process with Protek, the Junair design team came up with the optimum layout ensuring that they could make the most of the space in the paintshop, and ensuring they had enough room to be able to respray LCV's, Motorhomes and also Caravans.
Protek's new paintshop now boasts 2 new Junair 3 series spraybooths with energy saving features and a new larger paint mix room. Fitted with wider 3 leaf fully glazed door sets ensures that, when open, the doors take up the minimum amount of space allowing vehicles to move around more easily in the automotive spraybooths.
Both of the spraybooths have unique Junair LEVAC floors allowing them to be fully down draught without the need for costly floor excavations, and small unobtrusive ramps are used to access both booths. A fully downdraught booth allows for a better quality paint finish by removing the paint overspray more effectively. Down draught spraybooths also enable multiple parts to be painted in the same booth in different colours without overspray contamination.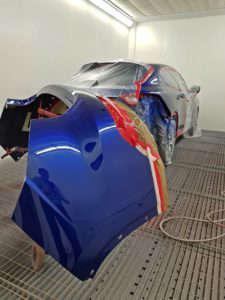 Steven Wood, Sales Manager, Junair Spraybooths commented: "In order to allow the Bodyshop to continue its operations during the installation the 3 series spraybooth ovens were installed in 2 separate phases. Protek now have a brand new paintshop with state of the art booths and are achieving the highest standard of paint finish on the vehicles".
Tom Pollock, MD at Protek said: "We've noticed a great difference time wise in the repairs moving through the booths, thus allowing us to carry out more jobs. The installation process was very impressive and carried out efficiently by the Junair Installation team.
We would like to make a special mention to Lewis and Paul, who through the installation process were very proficient and professional, and helped us understand the process while on site. It's possibly too early to comment on energy savings at this stage, but with the booth times being reduced and the booths themselves being more efficient, we would be confident on there being a big difference".
Energy-saving Spraybooths
The spraybooths have energy saving features such as fuel saver mode, LED lighting and the Junair Patented QADs system. QADs are an auxiliary drying system, circulating the air within the spray booth significantly speeding up the drying process and therefore saving energy.
For more information on Junair Spraybooths contact the team on 01706 363 555 or contact us online.