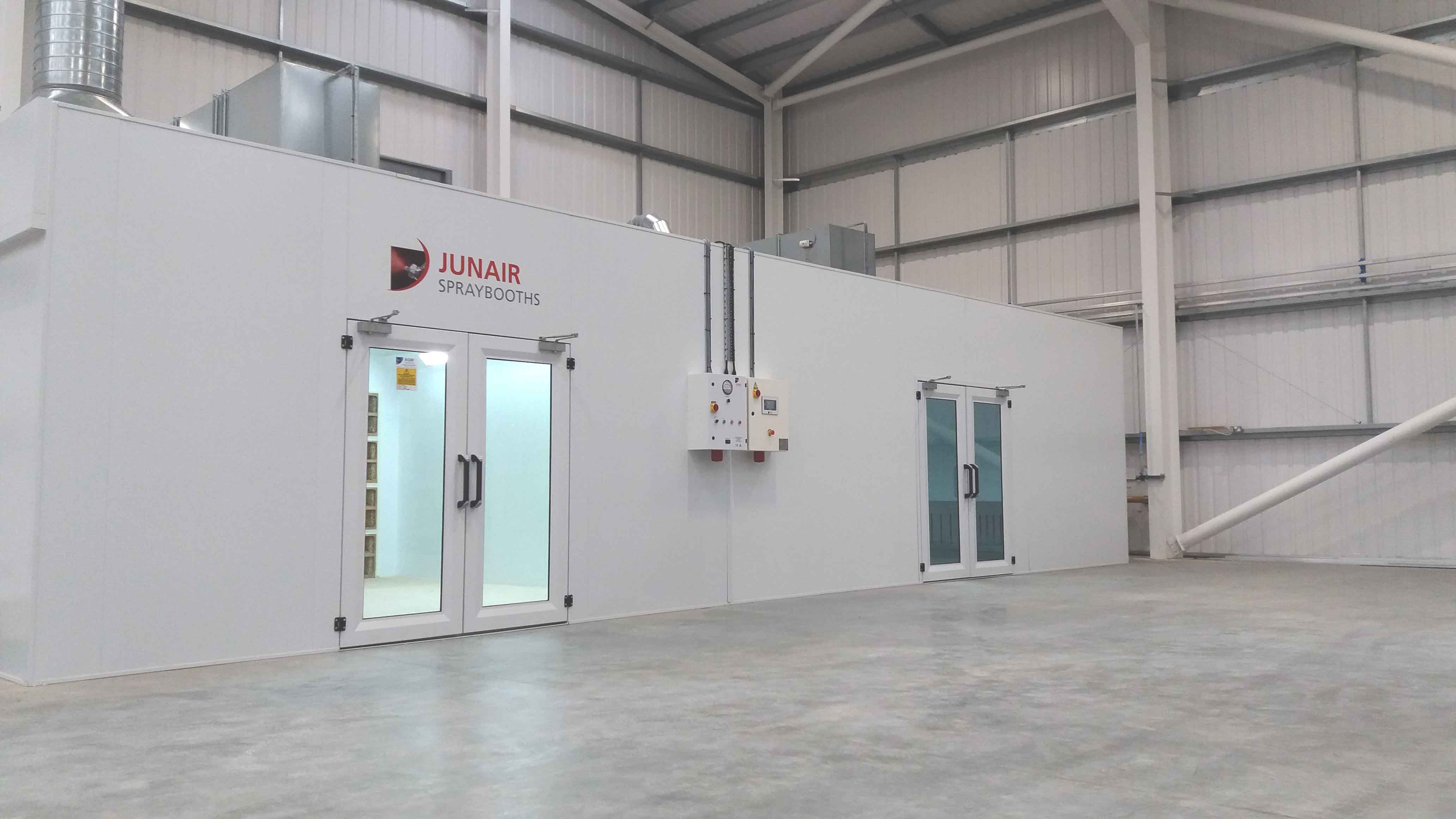 Tillett Racing Seats based in Sittingbourne, Kent are a world renowned manufacturer of seats for the motorsport and karting industries. Originally designed for karting, the carefully sculptured seat shapes were eventually developed for use in the Caterham R500 and following comprehensive R&D as well as pioneering product innovations, they now have dealers worldwide and a well-earned reputation as market leaders.
New spraybooth facilities for Tillett Racing
After outgrowing their existing unit, Tillett Racing identified a need for a new manufacturing facility to meet demand and improve efficiency. Following a detailed consultation to find out the customer requirements, Junair Spraybooths installed a bespoke 1 Series rear extract spraybooth, a drying oven and an adhesive spraybooth.
The 1 Series Spraybooth oven is a 5 x 5m booth with box filters at the rear. The box filters are high capacity particulate filters designed to reduce operating costs. Their unique design results in exceptionally low airflow resistance and prolongs the time between filter changes. The filters are durable and are simple to change requiring only one operative. The rear extract spray booth is used to apply a gel coat to the composite substrate after which the seats are moved to the curing oven. Learn more about the 1 Series Spraybooth.
An adhesive booth has been installed for the application of adhesive, ensuring operatives are able to work in a safe environment. Its pleated extract filters offer superior performance characteristics. The engineered mechanical filter media is designed for optimum performance in standalone applications offering savings of energy and operating costs whilst protecting the workforce from the damaging effects of contaminated air. The adhesive booth is primarily for the application of a water based adhesive to the composite seats prior to the fitting of the fabric covering.
The 8m wide baking oven will cure the seats ready for use. The iSystem control unit has pre-programmed recipes ensuring the correct drying profile is used and that the product is not over or under cured. The touch screen control system is intuitive to use and ensures operators are aware of exactly where in the process the booth is. They can instantly see if the booth is up to temperature that it's at the correct pressure and how long is left at any stage of the process. Get more information about Junair's curing ovens.
Junair Spraybooths honoured to work with Tillett Racing
Jason Douglas of Junair Spraybooths commented: "I was excited when I heard about this project, racing has always been a passion of mine and to work with such a well thought of name in the industry is an honour. We talked over their requirements and our technical design team came up with the optimum solution for them. The finished spraybooths definitely look the part and complement the quality of Tillett."
Junair Spraybooths are the UKs leading spraybooth manufacturer, with expertise in a variety of industries. For more information on Junair and the spraybooth equipment they provide contact the experienced team on 01706 363 555 or email sales@junair.co.uk