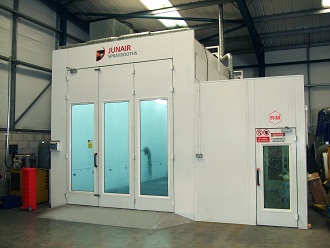 Choosing Junair Spray Booths as their bodyshop relocation partner was certainly the right move for Wigan-based S & D Pollitt. When the family-run vehicle repair business had to move to new premises in order to make way for a new housing development, they entrusted Junair with the task of relocating and upgrading their spraybooth and paint mixing room.
Although the new building was just a short distance away from the company's existing site, it was imperative that everything went as smoothly as possible within the agreed time-frame and with no bodyshop downtime, as Andy Sankey, Bodyshop Manager at S & D Pollitt for the last ten years, explains: "Whether you're moving 200 yards or 200 miles away any business relocation can be a real upheaval, unless it's properly managed. We wanted to keep any inconvenience to our customers to an absolute minimum, so it was important to us that we didn't lose any bodyshop production. Having worked with Junair in the past I have always been impressed with their professionalism. I had every confidence they could help us to complete a quick, trouble-free transition."
All Work Carried out by Junair Spray Booths
S & D Pollitt operated two Junair spray booths and a paint mixing room. While Junair relocated the newer booth to the new site, the older of the two spray Booths remained fully operational in the existing building. Junair Spray Booths provided all the labour and materials to disconnect, dismantle, transport, re-build, re-wire, commission and test the re-sited spraybooth. This included the supply of new roof plates, extract filters, input filter, jointing and fixings.
In addition, the refurbished booth was also converted to incorporate a LEVAC floor, which helped to keep the relocation on the required fast-track schedule, as Andy confirms: "By specifying the fully gridded, fully extracted LEVAC floor, we didn't have to worry about the extra time and cost implications of excavating a pit under the booth. The height of the spraybooth floor is less than six inches above the building floor level and a low profile ramp makes it easy to move vehicles into and out of the booth."
As part of the relocation of the paint mixing room, Junair Spray Booths had to build a new side wall for the room as it was originally sandwiched between the two booths in the old premises. In order to comply with Health & Safety legislation, a personnel door was also incorporated at the rear of the paint mixing room.
From start to finish, the fully refurbished booth and paint mixing room were relocated and fully operational within just ten days, after which the old booth was decommissioned and sold.
Another Happy Client
"As far as business relocations go that was about as smooth as it gets. With Junair's planning, technical support and hard work on-site the whole project was completed on time and with little or no disruption to our business or to our customers," said Andy.
"Quite simply, Junair are very good at what they do – and, being a local company in close proximity to our business, we also know that we can rely on their after-sales service, which is provided through their sister company AGM. We've had no breakdowns in the past, but when we've needed filters or other parts, they have responded very positively and very quickly indeed," he concluded.
Established for more than forty years in the auto repair industry, S & D Pollitt specialises in car, motorcycle and commercial vehicle repair and servicing for all makes and models. Manufacturer and insurer approved, the company holds PAS 125 Thatcham British Standard Institute accreditation. In addition to its core accident repair services, the company also offers smart repairs, alloy wheel repairs, vehicle resprays, vehicle servicing, electronic diagnostic testing, 4 wheel alignment, air conditioning service, tyre replacement, glass replacement and a full valet service.
From automotive to aerospace industries, find out more about Junair Spray booth equipment.