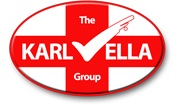 Following the installation of their new Junair double spray booth, one of the UK's leading independent body shop group, The Karl Vella Group, is reaping the benefits.
Junair installed a new double spray booth for the Karl Vella Group at their Skelmersdale site approximately 12 months ago. The booth was fitted with Junair's patented Qad system and energy saving variable speed drives and fuel saver mode, which effectively reduce running costs by up to 70%.
The unique design which utilises just ONE plant, allows two vehicles to be processed at the same time- both sprayed or both baked. The cost savings with capital outlay and running costs are a major benefit.
Other benefits include
Full low bake capability
roof mounted plant to minimise floor space occupied
superb lighting from Ultra lux lights with electronic starters
full Booth size each cabin – also available in a range of lengths & heights
floor – standing, requires no excavation
perfect for Cosmetic and "Rapid repair line" works
each job costs as little as £1.75 to process through the spray and bake cycle
The results achieved by using Junair's specified, technically sophisticated equipment, combined with efficient in shop management have been impressive to say the least.
Karl Vella of the Karl Vella Group is delighted with the equipment, he said – ' In response the changing face of vehicle repairs we at Karl Vella are committed to innovation within the market. It has become apparent to us that it is important to segregate 'Rapid Repairs' from conventional accident repair and in order to deliver excellent service using the best equipment available we turned to our long term equipment partner, Junair Spraybooths. One of Junair's innovative designs is two booths operating with one plant- this is very economical way of spraying and baking two vehicles at once using the absolute minimum energy. We are delighted with the equipment and the results, the process works really well for us'
Learn more about spray booth equipment and accessories manufactured by Junair